NEW E-BOOK NOW AVAILABLE ON AMAZON.COM FOR ONLY $2.99

THE TRUTH BEHIND TRAUMA HEALING:
The Personal Essays of Alexis Acker-Halbur
NEW! The emotional and physical struggle with trauma is both frightening and debilitating. Trauma makes us sick – horribly sick – when not resolved. The Truth Behind Trauma Healing: The Personal Essays of Alexis Acker-Halbur, is a step-by-step approach to understand what trauma is and how the stress affects the mind, body, and spirit. Whether the trauma comes from child abuse, sexual exploitation, sexual assault and harassment, rape, or domestic abuse, these essays create inspiration to restore us to a state of emotional well-being and healing.
Written by Alexis Acker-Halbur, a multi-trauma survivor, T.R.U.T.H. Program creator, and public speaker on healing trauma, she has found a way to resolve trauma before we get sick.
To order today, please click here and you'll be taken to Amazon and the e-book.
INTRODUCING A PROGRAM FOR TRAUMA SURVIVORS: T.R.U.T.H. PROGRAM
(
T

HE

R

OAD TO

U

NRESOLVED

T

RAUMA

H

EALING)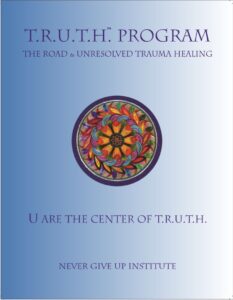 Dear Wellness Seekers:
This 8-week educational and informational program is designed to be a self-study or group workbook to help survivors of trauma enhance their abilities to recover their health through mind, body, and spirit wellness activities. If you are looking to uncover your strength and inner wisdom, this innovative program will help you create a purposeful life. We believe that finding a meaning for trauma helps us to recover from the darkness and illness trauma can cause.
T.R.U.T.H. Program Session Topics:
Week One   —   T.R.U.T.H. Program Introduction
Week Two   —   Stopping Violence & Trauma from Affecting Your Health
Week Three —  Facing Our Fears
Week Four   —  Healing the Mind
Week Five:   —  Healing the Body
Week Six:   —    Healing the Spirit
Week Seven —  Finding Compassion and Forgiving Ourselves First
Week Eight  —  Creating Your New Life Plan
The T.R.U.T.H. Program workbook is now available to purchase as a self-study. If you are interested, please send a check in the amount of $40.00 (reduced) made out to Never Give Up Institute, and mail to 5725 Willow Trail, Saint Paul, MN 55126. (Tax and shipping included.)
Note:                
T.R.U.T.H. Program is not a therapy group, nor is it religion-affiliated. We recommend that you see a therapist while you are going through the workbook. This program is not intended to cause triggers, so a therapist can help you in working through T.R.U.T.H. Program if needed.
Questions:    Please email Alex at alexisackerhalbur@gmail, or call her directly at 651-341-6688.
U

are the center of T.R.

U

.T.H.
Call or write today.